For centuries, fish has been recognized as an excellent fertilizer source
. For this reason we have developed multiple all natural liquid fish formulas for organic and conventional crop production.
We make our fertilizers from fresh fish carefully processed at low temperatures to maintain the integrity of naturally occurring amino acids, vitamins, hormones and enzymes. The raw material is then stored in digestion tanks to liquify the product. This method produces a product called a "hydrolysate." (Fig. A.)
Drammatic fish hydrolysates contain the natural oils and proteins of fish, which break down slowly to become available over a longer period of time.
In contrast, the majority of fish fertilizers on the market today are known as "emulsions." First the fish is cooked and the oil removed for paints and cosmetics. Then the protein is removed and dried to make fish meal for livestock feeds. The remaining wastewater is condensed into a brown, thick liquid called an "emulsion." (Fig. B.)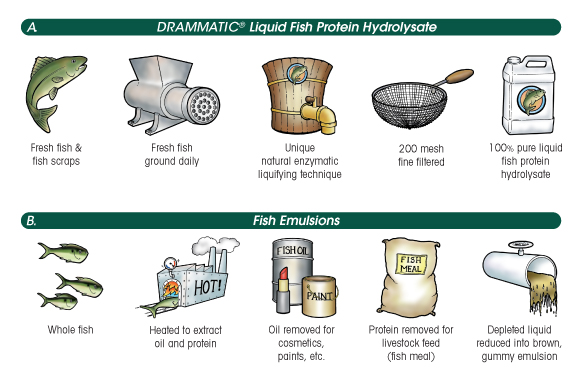 For more information contact your Drammatic Liquid Fish distributor or Dramm directly at the numbers listed at the left. You may also
email
us with questions.