AME Horizontal Air Flow System
The DRAMM AME Horizontal Air Flow System is the next step in air movement. Utilizing
fewer, more efficient fans
, the AME System produces better air movement with less energy costs, less noise and less maintenance. Unlike traditional velocity based HAF systems utilizing basket fans, the AME system relies on a
stable momentum
of air to
evenly distribute
temperature, humidity, CO2, and even pesticide throughout the greenhouse.
Each Dramm AME System includes variable speed control to fine tune the air speeds to the greenhouse. In most cases the fan speed will be between 40-60% of capacity. This lower speed ensures a reduction in turbulence and less stratification of the air in the greenhouse.
To ensure proper fan placement and to prevent mistakes in HAF layout, Dramm provides a drawing for each installation of the AME system. A layout can be requested through your Dramm distributor or by clicking the link above. The PDF brochure contains a questionnaire that will help us design your system.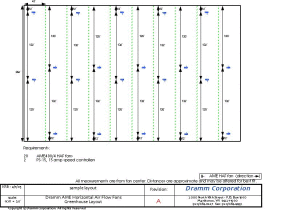 Each AME fan utilizes a specialized sealed motor that, because of an advanced bearing design, runs quieter, cooler and longer. Because the motor is completely sealed no lubrication or cleaning of the motor is necessary.
For more information download the
PDF Brochure
.
Let Dramm design your system.
Contact us via
e-mail
or by phone at the numbers listed to the left.
<!Item_Number:350/4> <!Product_Variation:AME Fans> <!Item_Number:PS-03> <!Product_Variation:Fan Controllers> <!Product_Variation:Fan Controllers> <!Product_Variation:Fan Controllers>