750PL Lemonhead Waterbreaker
Lower Flow, Soft Pattern

The 750 "Lemonhead" Waterbreaker is designed to offer a lower, softer flow. Just as soft as the 1000PL Redhead, the 750PL allows for more precise watering and gives growers yet another choice for more flexibility in watering.

The 750PL has 25% less hole surface area which offers a lower flow that can be regulated by a shut-off valve for minimal water and still retain a pattern.

The "Lemonhead" 750PLs are available at distributors throughout the world.
See it run
| | | |
| --- | --- | --- |
| | | Growers everywhere asked for a lower flow version of the popular "Redhead" 1000PL Waterbreaker. The New 750PL is the result of those requests. After being tested by growers for a year, Dramm released the pre-production 750PL in blue and green. After more than 400 votes online and many more by telephone were counted, the final color was chosen. Thank you for your input and help in releasing this new product. |
No matching products were found
For use with the 750PL: Keep your nozzles clean.
<!Item_Number:ILF-175> <!Product_Variation:InLineFilter> <!Product_Variation:InLineFilter> <!Product_Variation:InLineFilter>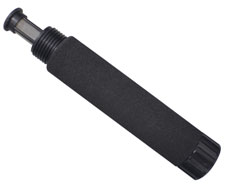 175 micron In-Line Hose Filter
The Dramm In-Line Hose Filter is for use with any Dramm hose nozzle, but highly recommended for the 1000PL Water Breaker and the 350AL Screen Aire. A stainless steel 175 micron (80 mesh) screen filters out unwanted dirt and debris.
| | | | | |
| --- | --- | --- | --- | --- |
| ITEM | GPM | WEIGHT | CASE PACK | CASE WEIGHT |
| ILF-175 | 10 @ 40 PSI | 2.8 oz | 25 | 5 lbs |
In-Line Wand Filter Element
175 micron element for the ILF-175.
| | | | | |
| --- | --- | --- | --- | --- |
| ITEM | GPM | WEIGHT | CASE PACK | CASE WEIGHT |
| ILFE-175 | element only | 1 oz | - | - |
| ILF-080 | 8 @ 40 PSI | 2.8 oz | 25 | 5 lbs |
| ILFE-080 | element only | 1 oz | - | - |