ColorStorm Professional Rubber Hose
Realizing that the perfect nozzle is only part of the hand watering experience, Dramm is introducing a line of hose designed to equal our watering tools in quality.

Dramm ColorStorm-Professional Rubber Hose is made from EPDM rubber for a "crackless" hose cover that is resistant to abrasion and weathering.
This reinforced hose is hexagonal in shape to reduce kinking. The design of the hose allows a user to easily pull free any kinks that may occur. Our hexagonal Sure-Grip
TM
cover creates a softer surface for a more comfortable grip.
Each hose has crush-proof, nickel plated, brass fittings for an exact fit that will survive years of use.
| | | | |
| --- | --- | --- | --- |
| | | | Dramm Professional ColorStorm Hose now says "Don't Tread On Me!" Our bright yellow hose is labeled "CAUTION TRIPPING HAZARD" to further prevent accidents. This feature is great for garden centers, landscapers and contractors... anyone worried about customers tripping. |
ColorStorm-Professional Rubber Hose is available in 5/8" and 3/4" diameters and in 50', 75' and 100' lengths standard. Custom lengths and bulk rolls are available.


ColorStorm Hose is available from Dramm Distributors throughout the world.
| | | |
| --- | --- | --- |
| | | For more information contact your Dramm Distributor or Dramm directly at the numbers listed at the left. You may also email us with questions. |
<!Item_Number:> <!Product_Variation:Hose> <!Product_Variation:Hose> <!Product_Variation:Hose> <!Product_Variation:Hose> <!Product_Variation:Hose> <!Product_Variation:Hose> <!Product_Variation:Hose> <!Product_Variation:Hose> <!Product_Variation:Fittings> <!Product_Variation:Fittings> <!Product_Variation:Fittings> <!Product_Variation:Fittings> <!Product_Variation:Fittings> <!Product_Variation:Fittings> <!Product_Variation:Fittings>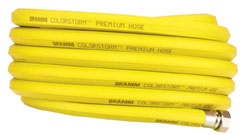 ColorStorm™ Professional Rubber Hose
| | | | | | |
| --- | --- | --- | --- | --- | --- |
| ITEM | SIZE | NAME | BROCHURE | MANUAL | SHIP WT. |
| - | - | ColorStorm™ Professional Rubber Hose | - | - | - |
ColorStorm™ Hose 5/8 in 50 ft
| | | | | | |
| --- | --- | --- | --- | --- | --- |
| ITEM | SIZE | NAME | BROCHURE | MANUAL | SHIP WT. |
| 17003 | 50 ft | ColorStorm™ Hose 5/8 in 50 ft | - | - | - |
| 17203 | 75 ft | ColorStorm™ Hose 5/8 in 75 ft | - | - | - |
| 17303 | 100 ft | ColorStorm™ Hose 5/8 in 100 ft | - | - | - |
| 17999 | 300 ft Max | ColorStorm™ Hose 5/8 in Per Foot | - | - | - |
| 17013 | 50 ft | ColorStorm™ Hose 3/4 in 50 ft | - | - | - |
| 17213 | 75 ft | ColorStorm™ Hose 3/4 in 75 ft | - | - | - |
| 17313 | 100 ft | ColorStorm™ Hose 3/4 in 100 ft | - | - | - |
| 17989 | 300 ft Max | ColorStorm™ Hose 3/4 in Per Foot | - | - | - |
Nickel Plated, Machined Brass Hose Fittings for ColorStorm™ Hose
| | | | | | |
| --- | --- | --- | --- | --- | --- |
| ITEM | SIZE | NAME | BROCHURE | MANUAL | SHIP WT. |
| - | - | Nickel Plated, Machined Brass Hose Fittings for ColorStorm™ Hose | - | - | - |
| MCP20124 | 5/8 in | Male 5/8 Nickel Plated Brass Fitting | - | - | - |
| MCP20248 | 5/8 in | Female 5/8 Nickel Plated Brass Fitting | - | - | - |
| MCP20124 | 3/4 in | Male 3/4 Nickel Plated Brass Fitting | - | - | - |
| MCP20249 | - | Female 3/4 Nickel Plated Brass Fitting | - | - | - |
| 19242 | - | 5/8 Ferrule - brass | - | - | - |
| 19178 | - | 3/4 Ferrule - brass | - | - | - |